Arraid Products in Military Data Storage
Arraid has helped a number of defense contractors and military organizations deal with storage related problems in their mission critical computer systems.
In addition to the data storage solutions Arraid provides for the lifecycle support of Automatic Test Equipment (ATE) and Simulation & Training devices -- Arraid provides custom in-house designed and manufactured solutions for Range, Data Acquisition, Display Systems, and Telemetry & Radar Tracking.
Arraid has designed and manufactured custom storage solutions for airborne, shipborne, and undersea applications. Our American-made custom-built data storage solutions have been in use by the military for three decades. We have an excellent track record of performance.
The weak link in older mission critical host computer systems is the peripherals. Those many moving parts will wear out long before the computer does. Arraid is one of the few manufacturers left on earth who can design & build brand-new field-proven replacements, for obsolete peripheral replacement.
Whether you are dealing with a disk drive, tape drive, floppy drive, magneto-optical (MO), or anything else that stores computer data, Arraid likely has a solution. Our devices are 100% solid-state, using Compact Flash (CF) technology. Our solutions are plug & play, using existing cables, computers, and controllers. There are no software changes – the host thinks it is talking to the obsolete hardware that was replaced.
Replacement RIMM using solid state ARRAID Flash Drive (AFD)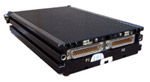 Miltope MU-739, floppy emulator

AEM disk drive emulator in ruggedized enclosure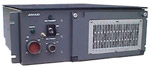 Disk Drives
Host Equipment
Arraid Product
Legacy Computers by Harris, Concurrent, SEL/Gould/Encore, MODCOMP, Foxboro, et. al.
AEM-1
HP 1000, 9000, 3000, HP-IB, CS/80, IEEE 488, GPIB
AEM-6C, AEM-8
Legacy Computers by Honeywell
AEM-1, AEM-3
RK-05 on DEC PDP-8, PDP-11
AEM-5C
Legacy DEC PDP-8, PDP-11, VAX 11/750-780
-
TI-960
AEM-1
VME, Motorola SBC
AEM-5C
SCSI-I, SCSI-2 upgrades
SEC, AFD
Tape Drives
Host Equipment
Arraid Product
Formatted Pertec Interface; Pertec, Kennedy, STC, MPI, Cipher, et. al. Many System Manufacturers
TES-2
Raytheon Data Systems, RDS 500
TES-3
HP 1000, 9000, 3000, HP-IB, CS/80, IEEE 488, GPIB
AEM-8, TES-5
SCSI Compatible Drives, such as HP 88780 series
TES-6
Remote Tape Drive with LAN or WAN access. Formatted Pertec Interface
TES-2IP-AFD
Other Products
Network Attached Storage
AFD
Patrick AFB, Atlantic Missile Range - Telemetry Acquisition
Vandenberg AFB, Pacific Missile Range - Telemetry Acquisition, Telemetry Information Processing
Hill AFB, Computer Sciences Corp., Utah Test Range - Telemetry Acquisition
NAS Pax River, NAWC Atlantic Test Range - Telemetry Acquisition
Satellite Tracking Station, Kaena Point, Hawaii
E-Systems
Naval Research Laboratory
Royal Saudi Air Defense Forces
Bespoke Emulation Solutions
Arraid team members include some of the foremost experts in the design of data storage emulation systems. We would be happy to discuss with you, and develop for you, an emulation solution to upgrade the capabilities and reliability of your computer system.
Drop us an email or view contact details here