Arraid Products in Semiconductor Manufacturing
The production of semiconductors is highly automated, with even manual process assisted by computer. Through a relationship with KLA, Arraid has helped a number of companies deal with problems in their IC testers and Photomask Inspection systems.
Generally, these computer systems may be viewed as "fixed use" systems. They were designed and built to interface with specific equipment or to run specific application software. Over time, the application changes slowly and very little. As long as the computer system remains reliable and maintainable, there is no reason to upgrade the system or rehost the computer. Unfortunately, while the system's host computer and interfaces may remain reliable and maintainable, legacy storage products don't.
As with any mission critical system, where production depends on its proper operation, computer system availability is key. Missed production means lost revenue and potentially lost Customers. Support teams are constantly challenged to prevent failure and minimize downtime. Arraid products can help.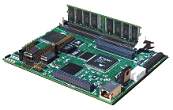 For these older computer systems, Arraid provides COTS storage emulation solutions, integrating ARRAIDs proprietary FPGA based solid state Flash Drive (AFD), it can extend the life of mission critical systems and help to insure optimum availability. For early SCSI systems we have both JBOD chassis and replacement SCSI Flash Drive modules. For more current systems, Arraid can provide NAS and RAID storage modules to increase system capabilities and performance.
Disk Drives
Host Equipment
Arraid Product
LTX-77 Analog IC Tester with Spectralogic controller and CDC 9762, 80MB or other SMD Disk Drive
AEM-1

KLA-Tencor Model 201 Photomask Inspection Station using KLA-20 Database Computer with KLA-160, KLA-750, SMD-160, XMD-800 Disk Drives
AEM-1

KLA-Tencor Model 208 Photomask Inspection Station using RIA-1 or RIA-2 Database Computer with KLA-750, XMD-800, KLA-850, or Sabre 850 Disk Drives
AEM-1

KLA-Tencor Model 219/HR Photomask Inspection Station using RIA-2 Database Computer with KLA-850 or Sabre 850 Disk Drives.
AEM-1
Legacy Computers by Harris, Concurrent, MODCOMP, Foxboro, et. al.
AEM-1
RK-05 on DEC PDP-8, PDP-11
AEM-5C
Legacy DEC PDP-8, PDP-11, VAX 11/750 - 780
-
SCSI-I Upgrades
SEC , AFD
Tape Drives
Host Equipment
Arraid Product
Formatted Pertec Interface; Pertec, Kennedy, STC, MPI, Cipher, et. al. Many System Manufacturers
TES-2
SCSI Compatible Drives, such as HP 88780 series
TES-6
Other Products
Network Attached Storage
AFD
Bespoke Emulation Solutions
Arraid team members include some of the foremost experts in the design of data storage emulation systems. We would be happy to discuss with you, and develop for you, an emulation solution to upgrade the capabilities and reliability of your computer system.
Drop us an email or view contact details here