Benefits of Upgrading Legacy Storage with Arraid Device Emulators
Arraid, LLC. is the leading innovator in the art of upgrading data storage for legacy computer systems through integrating our proprietary FPGA based solid state technology. Arraid's flash based emulation products provide hardware and software compatible replacements for many types of worn out disk drives, cartridge disks, floppy drives and tape drives. Arraid has models that work across a wide variety of computer systems and interface protocols.
Because the storage drive unit is typically the least reliable element, Arraid's solid state flash based products and systems can prolong the life of aging computer systems. Our products are used extensively throughout business and government, where Customers have incurred a large investment in special hardware and unique, non-portable software.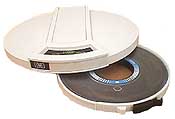 Using current technology electronic systems and solid state flash based SCSI devices, Arraid's storage peripheral emulators provide our Customers with many benefits and cost savings:
Benefits and cost savings?
Extend the Life of Critical Computers
Arraid peripherals will significantly reduce system downtime.
Arraid peripherals will protect valuable system software.
Eliminate Maintenance Headaches
Additional Useful Features